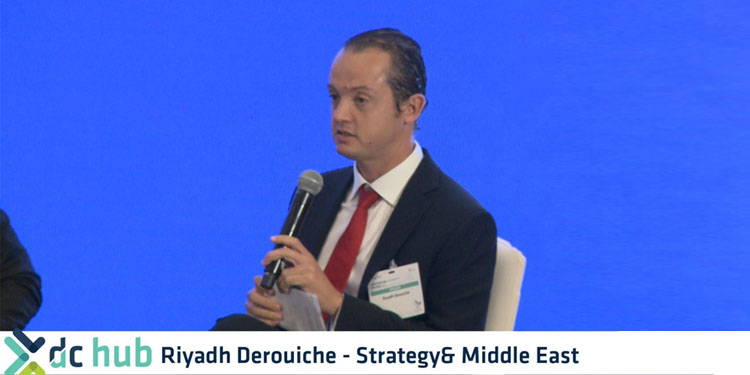 In Saudi Arabia's construction industry, a groundbreaking transformation is underway, one that promises to revolutionise how projects are delivered, and supply chains are managed. The digitisation of the supply chain is poised to shift the market at an unprecedented scale. However, this shift isn't without its challenges.
In a country where supply chain maturity remains a significant obstacle to efficient project delivery, collaboration across the entire value chain becomes paramount for successful digital transformation. This panel discussion looks into the essence of this paradigm shift, highlighting the crucial pain points hindering digital adoption and exploring strategies to overcome them.
Supply Chain in Saudi Arabia's Construction Industry
Like many others globally, the Saudi Arabian construction industry has long grappled with the complexities of its supply chain. The journey from raw materials to a finished structure involves numerous stakeholders, complex logistics, and varied processes. Historically, this complexity has led to inefficiencies, delays, and cost overruns. Recognising the need for change, the industry is turning to digitalisation to streamline and optimise this complex supply chain.
Collaboration: Key to Scaling Digital Transformation in KSA
The Saudi construction landscape finds that achieving digital transformation requires more than technological innovation. Collaboration is the cornerstone that will enable the entire value chain to embrace digitalisation at scale. The integration of stakeholders, including suppliers, contractors, architects, engineers, and regulatory bodies, is essential for implementing comprehensive digital solutions. Only through collective efforts can the industry truly address pain points and leverage digitisation to its fullest potential.
Digital Progress in Saudi Supply Chain: 4 Building Blocks
The road to supply chain maturity and digital excellence is paved with four fundamental enablers: regulation, data, training, and access to materials.
Regulation: A supportive regulatory framework is crucial for driving digital transformation. Regulations that encourage data sharing protect intellectual property and set standards for interoperability are instrumental in fostering a collaborative digital ecosystem.
Data: Data is the lifeblood of digital transformation. Developing a robust data infrastructure that facilitates the seamless exchange of information across the supply chain is pivotal. Accurate, real-time data empowers stakeholders to make informed decisions and optimise processes.
Training: Transitioning to a digital supply chain requires a skilled workforce. Providing comprehensive training and upskilling opportunities for industry professionals is essential to bridge the digital skills gap. With the right knowledge, workers can effectively operate and leverage digital tools to enhance supply chain capabilities.
Access to Materials: Uninterrupted access to construction materials is imperative for project continuity. Digital platforms can facilitate transparent procurement and inventory management, ensuring that materials are available when and where they are needed.
Navigating the Digital Landscape
While the vision of a fully digitised supply chain is enticing, several pain points can hinder progress. These include resistance to change, interoperability challenges, data security concerns, and initial investment barriers. Industry players must work together to address these challenges head-on, employing strategies such as:
Change Management: Navigating change requires a shift in mindset. Industry leaders must communicate the benefits of digitalisation, address concerns and showcase success stories to inspire buy-in from all stakeholders.
Interoperability Solutions: Developing standardised interfaces and protocols ensures seamless integration between digital platforms and systems. This interoperability eliminates data silos and promotes efficient communication.
Cybersecurity Measures: Implementing robust cybersecurity measures is paramount to safeguarding sensitive data. Employing encryption, access controls, and regular audits can mitigate risks and build trust in digital systems.
Investment and ROI: Initial investments in digital solutions can be substantial. However, a clear analysis of the return on investment, including reduced operational costs, improved project timelines, and enhanced collaboration, can justify these expenditures.
The Road to Digital Excellence
The journey toward a fully digitised supply chain for Saudi Arabia's construction industry is undoubtedly challenging, but the rewards are immense. By collaboratively addressing pain points, investing in foundational enablers, and embracing a culture of digital innovation, the industry can unlock new levels of efficiency, transparency, and competitiveness. As the panel discussion emphasises, the construction industry can propel itself into a new era of supply chain capability and project delivery excellence through collective efforts and a shared vision.
Led by
Riyadh Derouiche, Partner, Strategy – PWC Middle East
In conversation with:
Shawki Gholmie, Vice President – Strategy & Corporate Development, Nesma & Partners Contracting Co
Zulema Sanchis, Senior Digital Transformation Lead, Accuracy
Mohamed Elweshahy, Projects Director, Shomoul Holding Company
Abdulmajid Karanouh, International Director, Head of Interdisciplinary Design & Research, Drees & Sommer
Simon Cuciurean, Senior Advancement Director, Bentley Systems