The value of GCC construction project awards – including buildings, infrastructure and industrial – increased in Q2 2023 in the Digital Construction Hub Projects Awards Tracker.
Q2 2023 awards for the building, infrastructure and industrial sectors were valued at $39.9bn, compared with $19bn in Q2 2022, a sharp rise of 110%. GCC spending on projects in Q2 2023 were high as investments in non-oil sectors are proving critical to the GCC countries' ability to withstand global economic pressures and are in line with their visions.
Oman's projects market recorded $20bn in awarded construction contracts, overtaking the UAE ($9.8bn) and Saudi Arabia ($8.9bn). While higher oil prices have contributed to the overall rise in this segment of the GCC's projects market in Q2 2023, it is Oman's clean energy plans that prompted its major increase in project awards.
The country is pushing ahead with its hydrogen production plans and awarded contracts to begin building the required facilities, including the Green Hydrogen Project Block Z1-01 in SEZAD, worth $8bn.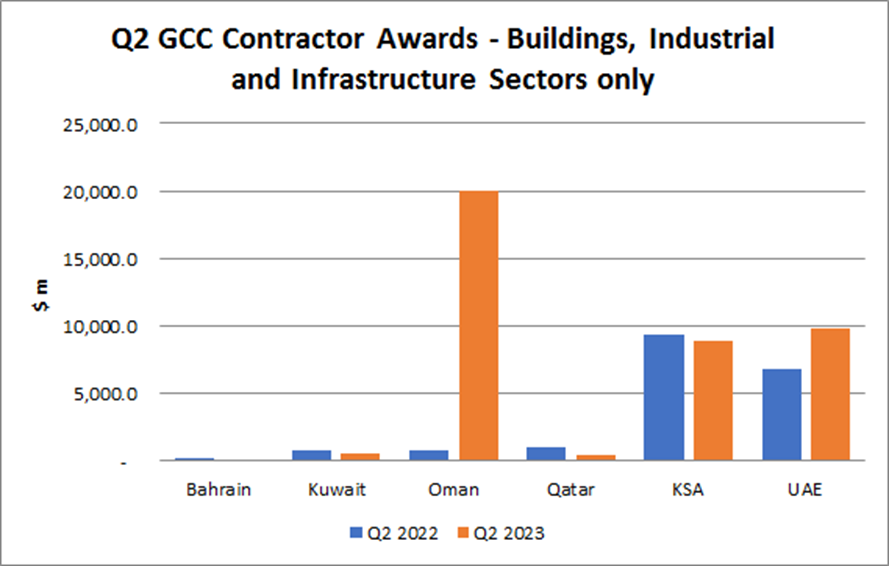 Second quarter awards across all sectors were valued at $78.3bn, compared with $27.24bn in Q2 2022. In Saudi Arabia, $26.7bn-worth of contracts in the projects market were awarded, overtaking the UAE ($18.4bn) and Oman ($20.1bn).
As part of the kingdom's Vision 2030, Saudi Arabia will continue to implement a wave of reforms that underline its dedication to diversifying the economy. The Public Investment Fund (PIF) and the National Development Fund (NDF) will continue to provide additional stimulus to the economy and the projects market.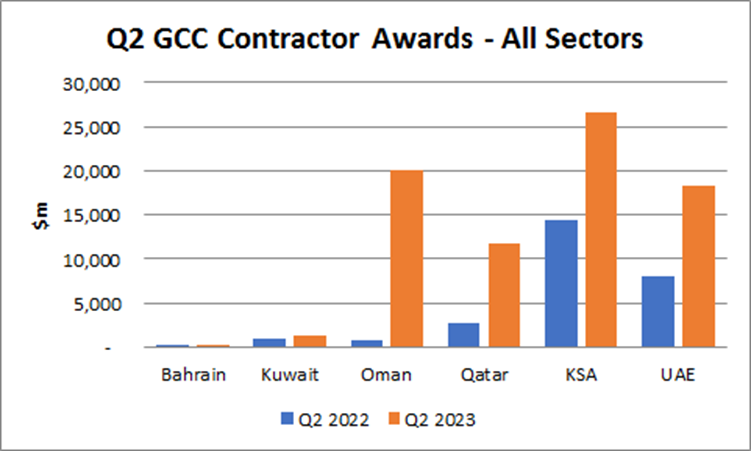 Overall, Saudi Arabia, the UAE and Oman continued to account for the largest value in contracts awarded in Q2 2023.
Among the top 10 projects awarded to contractors in Q2 2023, most were in Saudi Arabia and the UAE, including a combined $4bn across two Neom-based projects. The UAE saw increased project spending across all sectors, including a 43% rise in construction and infrastructure, due to several significant contracts being awarded.
The largest project awarded to contractors was Qatar's North Field South Project – 2 Liquefied Natural Gas Mega Trains worth $10bn. Oil and gas constitutes the backbone of Qatar's economy. Qatar exerts efforts to diversify its sources to remove its dependence on these natural resources. Qatar will embark on an intense period of negotiations with international LNG clients in 2023 with the aim of securing long-term fixed contracts for its existing and future expanded LNG production.
GCC Major Projects Awarded to Contractors in Q2, 2023
Name
Client
Contractor
Est. Project Value ($m)
Country
North Field South Project – 2 Liquefied Natural Gas Mega Trains
QatarEnergy (Formerly Known as Qatar Petroleum), Qatargas, TotalEnergies, Shell, ConocoPhilips
Consolidated Contractors Company (CCC), Technip Energies
10,000
Qatar
Green Hydrogen Project Block Z1-01 in SEZAD
Hydrom (Hydrogen Oman LLC)
Copenhagen Infrastructure Partners (CIP) , Suhail Bahwan Group, Blue Power Partners
8,000
Oman
Amiral Petrochemical – Mixed Feed Cracker – Package 1
Saudi Aramco Total Refining & Petrochemical Company (Satorp)
Hyundai Engineering & Construction Company Ltd.
3,000
Saudi Arabia
Neom Business City – TROJENA – The Lake
Public Investment Fund (PIF)
Al Ayuni Investment & Contracting Company, Limak, Turkey, Power Construction Corporation of China (PowerChina), Webuild
2,000
Saudi Arabia
Neom Business City – The Line – South Rail Line Connector
Public Investment Fund (PIF)
Webuild, Shibh Al Jazira Contracting Company ( Shibh al-Jazira Establishment ), Land Laboratories
2,000
Saudi Arabia
1500 Emirati Residential Development in West Baniyas
Abu Dhabi Housing Authority (ADHA), Department of Municipalities and Transport, Abu Dhabi
Trojan General Contracting
1,716
UAE
Renewable Energy Program – 2,000 MW Solar Plant Ar Rass 2 – Qassim province
Public Investment Fund (PIF), Renewable Energy Project Development Office (REPDO)
Larsen & Toubro
1,500
Saudi Arabia
Al Habtoor City – Habtoor Tower
Al Habtoor Group
China Railway 18th Bureau Group
1,226
UAE
Serenia Living in Palm Jumeirah
Palma Holding
Khansaheb Civil Engineering
681
UAE
Al Ula Eco Tourism Schemes – Sharaan Resort & Nature Reserve
Royal Commission of Al Ula
Bouygues Construction, Almabani General Contractors, Saudi Arabia
300
Saudi Arabia
Source: Ventures Onsite
GCC Top Clients who announced major projects in Q2, 2023 (All project sectors – Buildings, Industrial, Infrastructure, Power & Water and Oil & Gas)
Company Name
Country in which projects announced
Hydrom (Hydrogen Oman LLC)
Oman
Saudi Aramco
Saudi Arabia
Abu Dhabi National Oil Company (ADNOC)
UAE
Sarh Airport Development and Real Estate Investment
Saudi Arabia
Public Investment Fund (PIF)
Saudi Arabia
Abu Dhabi Executive Council
UAE
ACWA Power International, Saudi Arabia
Saudi Arabia
Department of Municipalities and Transport, Abu Dhabi
UAE
Ministry of Environment, Water & Agriculture, Saudi Arabia
Saudi Arabia
Dubai Properties Group
UAE
GCC Top Contractors who won major projects in Q2, 2023 (All project sectors – Buildings, Industrial, Infrastructure, Power & Water and Oil & Gas)
Company Name
Country(ies) in which projects won
Consolidated Contractors Company (CCC) / Technip Energies
Qatar
Copenhagen Infrastructure Partners (CIP) / Suhail Bahwan Group / Blue Power Partners
Oman
Arabi Enertech
Oman
BP Global
Oman
Hyundai Engineering & Construction Company Ltd.
Saudi Arabia
Larsen & Toubro
Saudi Arabia / Kuwait
Jan De Nul Dredging
UAE
Maire Tecnimont
Saudi Arabia / UAE
Orascom Construction / Metito
UAE
Trojan General Contracting
UAE
Source: Ventures Onsite