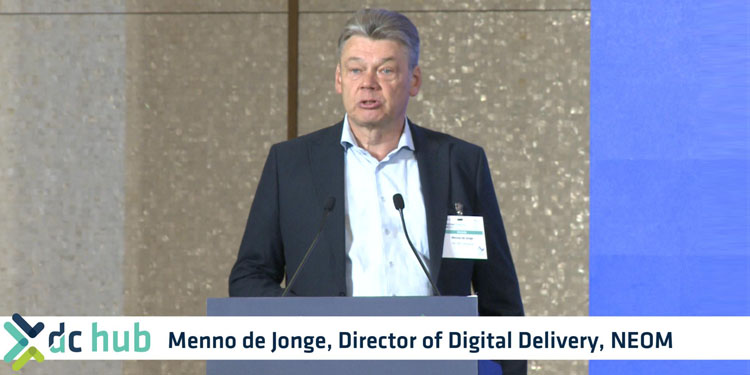 Discover NEOM's groundbreaking initiative in Saudi Arabia, reshaping construction with sustainability. Through innovative digital strategies, NEOM is revolutionizing global construction, integrating advanced technologies and circular practices. Join Menno de Jonge, Director of Digital Delivery at NEOM, in exploring NEOM's commitment to sustainability and its transformative approach.
NEOM is redefining construction through sustainability
NEOM's approach is firmly rooted in sustainability, recognising the pressing need to create environmentally conscious, socially inclusive, and economically viable communities. By placing sustainability at the forefront of its planning and design processes, NEOM is setting a new standard for the construction industry, one that embraces innovation to achieve harmonious coexistence with the natural world.
Digital Transformation of the construction industry
Central to NEOM's strategy is its groundbreaking digital transformation of the international construction industry. The mantra "make it before we make it" encapsulates NEOM's approach: a commitment to constructing digitally before the physical construction even begins. This innovative paradigm shift enables NEOM to optimise designs, anticipate challenges, and ensure efficiency well before the first brick. By harnessing the power of digital technologies, NEOM is transcending traditional construction methods, ultimately resulting in more sustainable, resilient, and future-ready communities.
Industrialised Construction and Circular Technologies
NEOM is not merely a city; it's a living laboratory for industrialised construction and circular technologies. Through the integration of state-of-the-art digital tools, prefabrication, and modular construction, NEOM is streamlining processes, minimising waste, and accelerating project timelines. This holistic approach to construction not only enhances efficiency but also significantly reduces the ecological footprint associated with traditional building methods.
Digital Design Implementation
NEOM's commitment to digitalisation extends beyond theory; it's already making a tangible impact on real projects. The Design & Construction sector of NEOM is embracing digital technologies to create innovative solutions that address the unique challenges of sustainable development. These solutions are not confined to the drawing board but are actively being implemented in various projects, demonstrating the feasibility and potential of NEOM's digital strategy.
Neom's Digital Strategy and its outcomes
NEOM's forward-thinking digital strategy is already yielding positive outcomes. Through digital simulations, NEOM is optimising energy consumption, predicting infrastructure needs, and enhancing resource management. Additionally, Building Information Modelling (BIM) enables precise coordination between various stakeholders, resulting in seamless project execution and minimised clashes during construction.
Reshaping the Future of Construction
NEOM's journey is nothing short of revolutionary. By embracing sustainability, digital transformation, industrialised construction, and circular technologies, NEOM is redefining urban development possibilities. As NEOM continues to implement its digital strategy and share its successes, it serves as a beacon of inspiration for the global construction industry. This bold endeavour underscores that the future of construction is not just about erecting buildings; it's about fostering innovation, embracing sustainability, and creating communities that harmonise with human needs and the environment. NEOM's vision is a testament to the transformative power of technology and imagination, showing that by building digitally first, we can build a better future for generations to come.
Menno de Jonge, Director of Digital Delivery, NEOM