The value of GCC construction project awards – including buildings, infrastructure and industrial – shrank for a second quarter in a row in the Digital Construction Hub Projects Awards Tracker.
Third quarter awards for the building, infrastructure and industrial sectors were valued at $11.6bn, compared with $14.8bn in Q3 2021. GCC spending on projects in Q3 2022 were low due to rising fears of a global economic recession.
Qatar's projects market recorded $4.5bn in awarded contracts value in Q3, overtaking the UAE ($3.7bn) and Saudi Arabia ($2.6bn). The withdrawal of Covid-19-related restrictions and higher oil prices have contributed to the rise in the GCC's projects market in Q3 2021.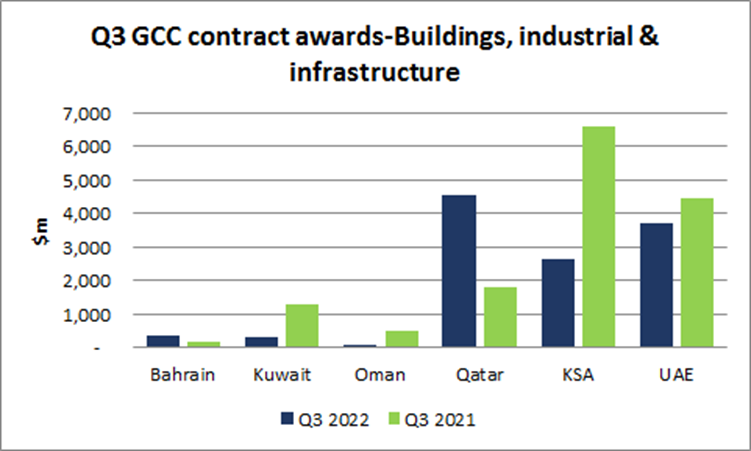 Third quarter awards for all sectors were valued at $17bn, compared with $22.6bn in Q3 2021. However, in the UAE, $7.2bn-worth of contracts in the projects market were awarded, overtaking Qatar ($5.7bn) and Saudi Arabia ($3.2bn). A plethora of reforms and a liberal economic and industrial policy in the UAE are attracting foreign investors, accelerating growth in the projects market.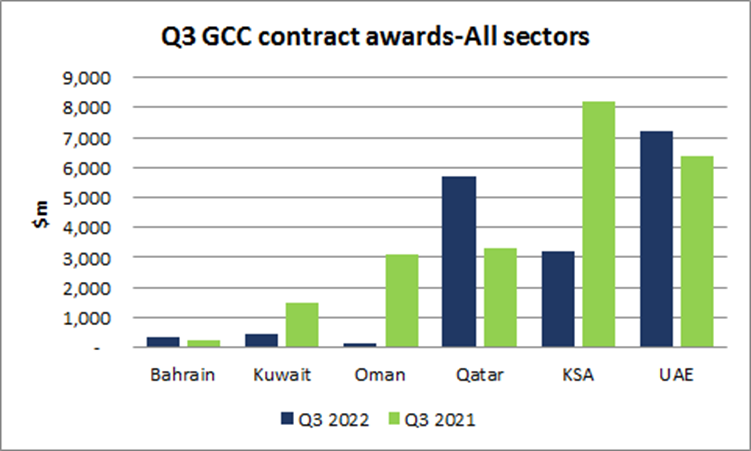 Overall, Qatar, the UAE and Saudi Arabia continued to account for the largest value in contracts awarded in Q3 2022.
Among the top 10 projects awarded to contractors in Q3 2022, three projects are from Qatar. The largest project awarded to contractors was Qatar's Sewage Treatment at Al Wakra & Al Wukair Plant worth $1.5bn.
According to the Public Works Authority's (Ashghal) President, the key aspect of the project is that it will contribute to achieving Qatar's environmental sustainability objectives and bring a balance between industrial growth and the optimal use of resources.
It is also in line with rising global interest in using treated water as a renewable resource for agriculture and industry. The project is under the public private partnership (PPP) model.
Saudi Arabia had the second-highest projects awarded by value to contractors in Q3. The King Abdulaziz Road Project (KAAR) – Building (Package A) was worth $1.3bn. The Package calls for the construction of buildings for the project, which is located on the western part of Mecca and stretches from the Mecca Gateway at the junction of the Jeddah Highway and the Third Ring Road. The scope of work will also include building four hotels.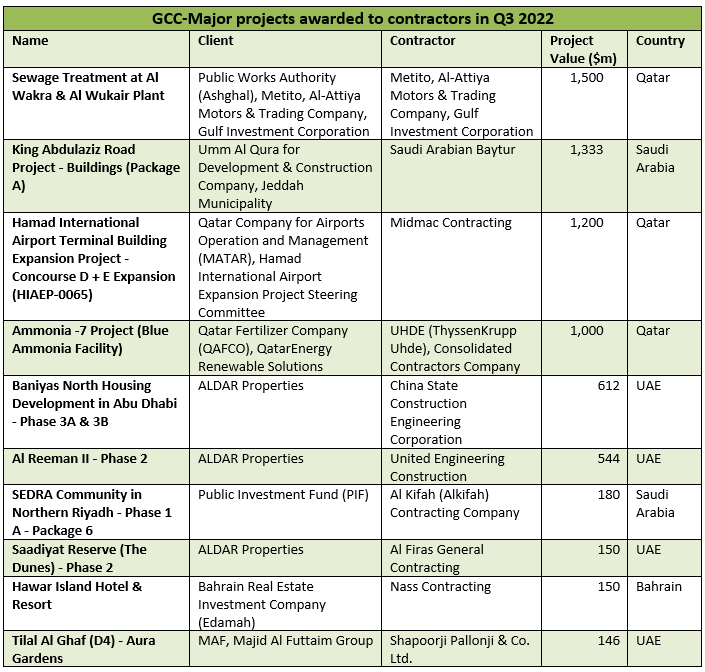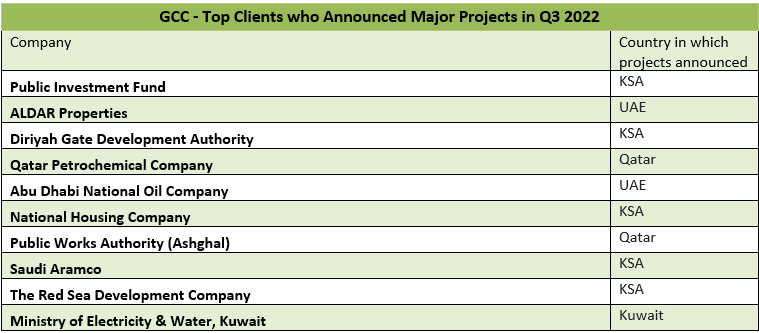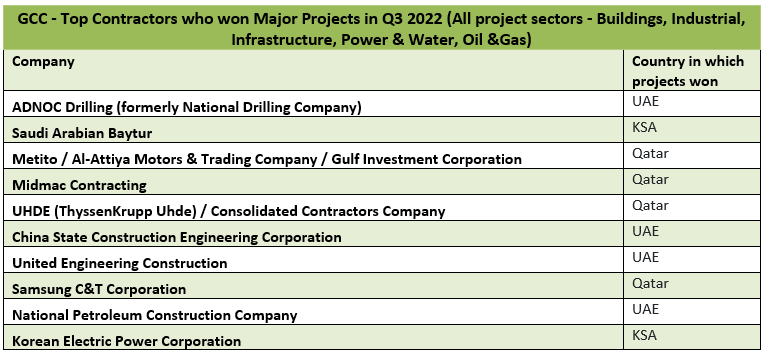 2022 Tracker: