GCC construction project awards: Q1 2022
Economic recovery in UAE and KSA
The value of GCC construction project awards shrank in the first quarter of 2022 compared with the same period last year. The total value was $11.7bn compared with $13.2bn in the first quarter of 2021.
The 11% decline highlights the ongoing effects of the Covid-19 pandemic, but there are positive signs of recovery in terms of planned awards for 2022, particularly in Saudi Arabia and the UAE.
Each GCC country posted a value that was broadly flat or below their 2022 Q1 figures, with the exception of the UAE, where buildings, industrial and infrastructure awards rose 30% to just shy of $4bn.
The increased use of digitalisation in construction
As construction awards increase in key markets, it will provide new opportunities for increased use in various construction technologies in the sector. A range of projects are already embracing different forms of digitalisation, such as use of modular construction in new mega city projects in Saudi Arabia and continued plans to develop digital twins, including schemes in the kingdom, the UAE and Oman.
Major contracts in the UAE included in $350m award to Al Ali Construction & Development Co for Bay Residences in Hayat Island in Ras Al Khaimah.
Within Saudi Arabia, the biggest awards made were for the car park basement works in Al Diriyah Festival City (going to Salini Saudi Arabia), 10 towers in Masar Residential Community (going to Umm Al Qura for Development and Construction) and the Water Park in Qiddiya City (awarded to a joint venture of ALEC Saudi Arabia Engineering & Contracting and El Seif Engineering Contracting).
The total Q1 2022 value of projects awarded across all sectors (including power & water and oil & gas) was $23.84bn, compared with $34.13bn in the first quarter of last year. Construction accounted for 49% of the total awards value, highlighting its continued significance to the both the projects market and overall economies in the GCC.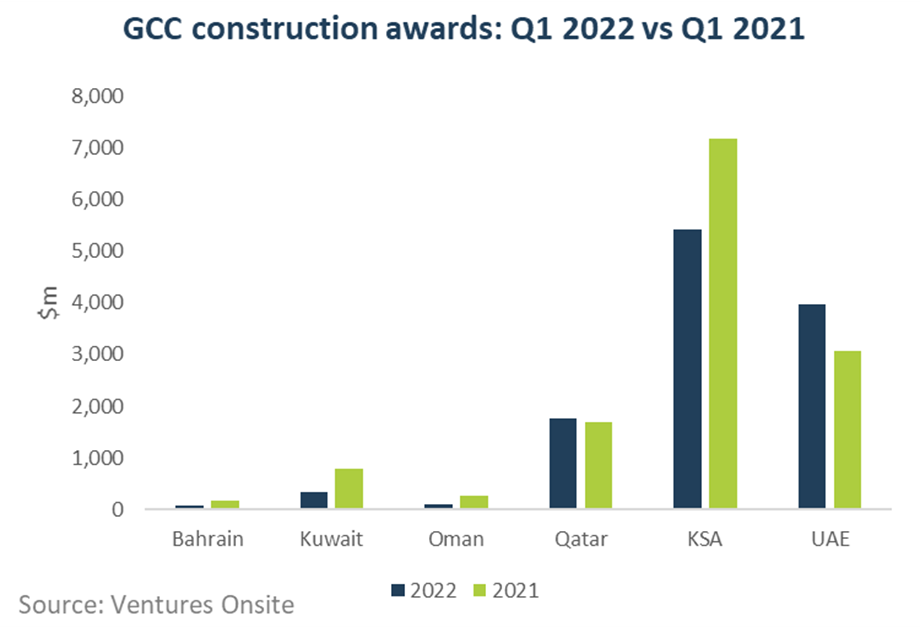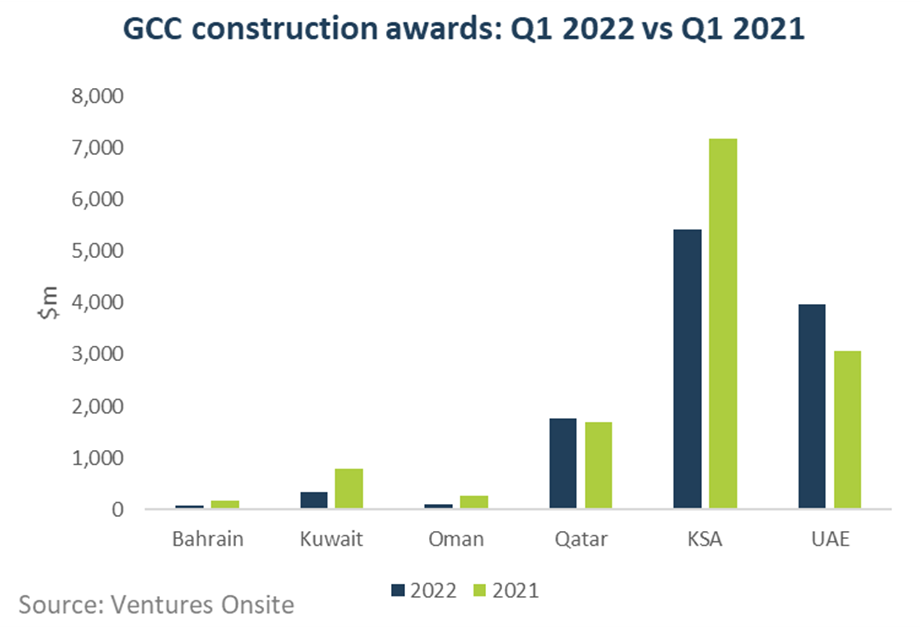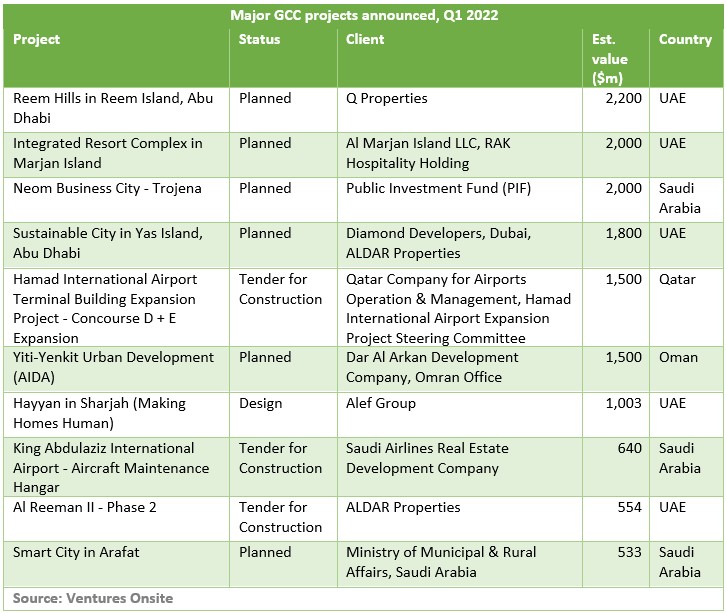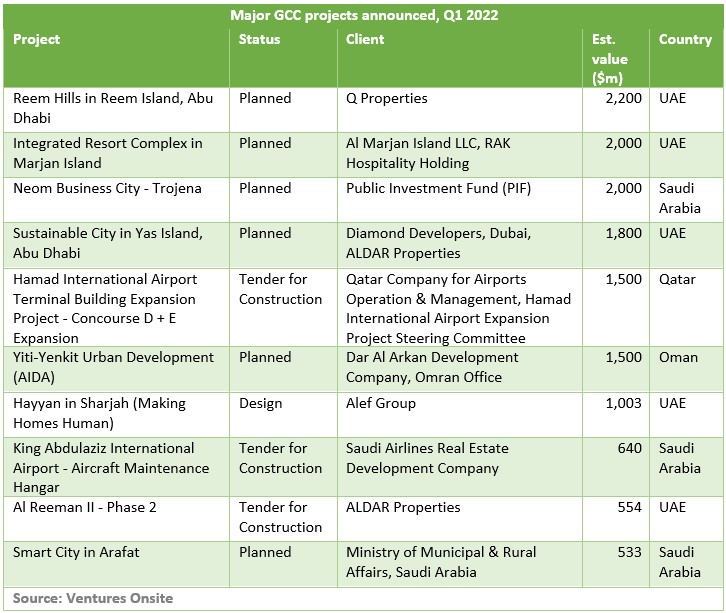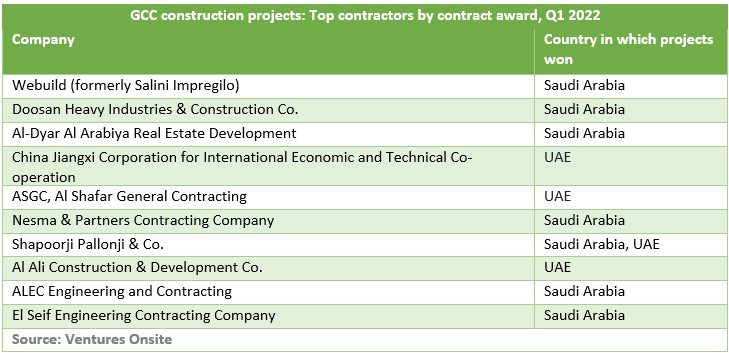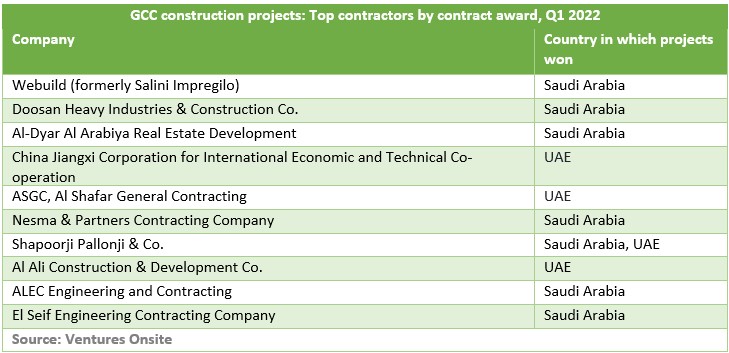 Construction contract awards in the GCC 2022
For the full year, the value of construction contract awards in the GCC is expected to remain flat with a forecast value of $60.2bn compared with $60.0bn in 2021. It will be no surprise that Saudi Arabia, with a looming Vision 2030 deadline and raft of projects planned for its new megacities, will be the most active market for the built environment. This is reflected in the most active clients, with the kingdom's Public Investment Fund topping the list.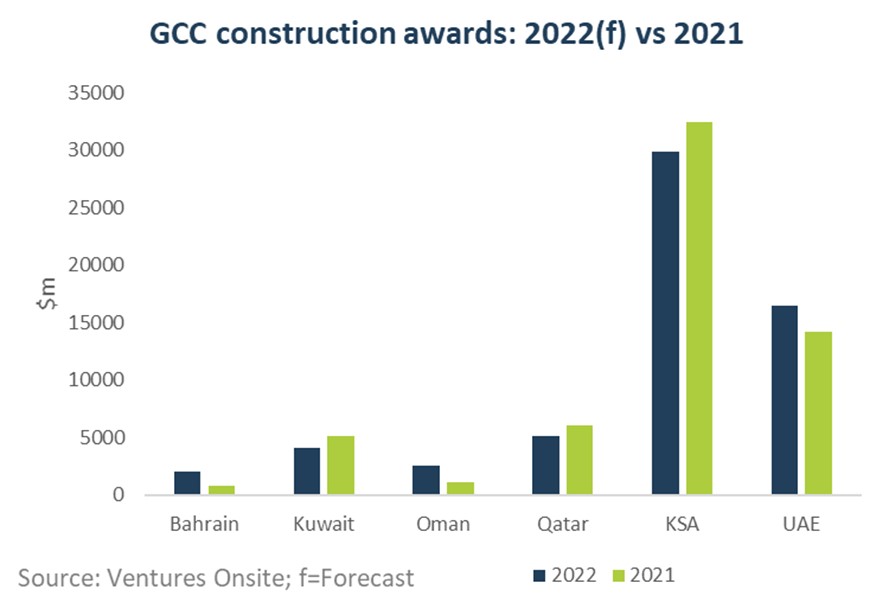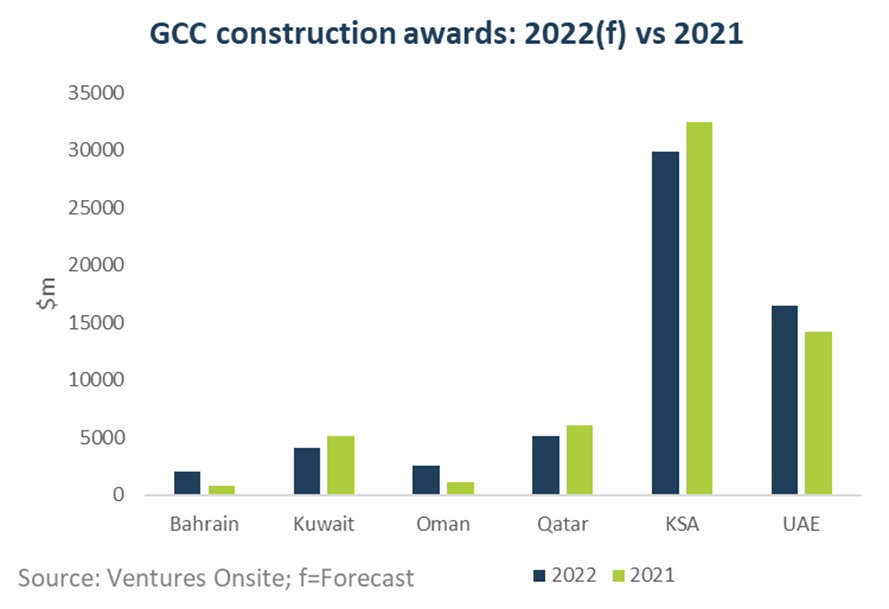 The UAE will be the second biggest GCC country for construction awards, followed by Qatar. Whilst a much smaller market, Oman is forecast to have an active year for construction awards, with contract values likely to more than double. However, much of that value is for one project – Oman Tourism Development Company's planned Yiti-Yenkit Urban Development, a mixed-use masterplan spread across read across 11 square kilometres.
The value of GCC contract awards across all sectors is forecast to decline very slightly compared with 2021, coming in at $112.2bn against $114.8bn. Saudi Arabia is expected to be the strongest performing market overall, as more projects are awarded that are part of its Vision 2030 strategy. It is expected to award $50.6bn worth of contracts across all sectors, up 9.5% on 2021.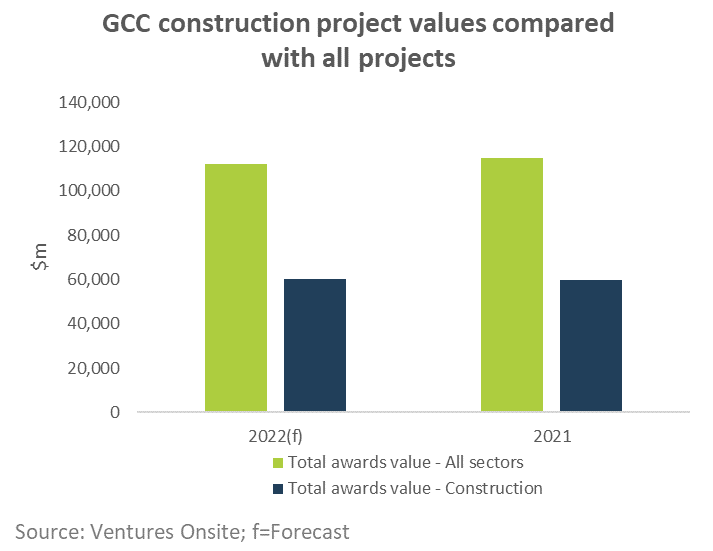 Bahrain ($2.3bn, up 34.4%), Oman ($6.0bn, up 50.9%) and Kuwait ($9.1bn, up 30.5%) are all expected to post higher awards values in 2022 across all sectors, although the latter has a history of announcing projects that do not come to fruition. The UAE will be the bloc's second-best market for projects, although its value overall is expected to dip by 12% compared with 2021, with $25.0bn of contracts awarded. Qatar's overall projects awards value is forecast to fall by 30.3% to $19.2bn. However, this fall masks the high value of major awards made in 2021.