GCC construction project awards: Q2 2022
The value of GCC construction project awards – including buildings, infrastructure and industrial – shrank for a second quarter in a row in the Digital Construction Hub Projects Awards Tracker.
Second quarter awards were valued at $12.9bn, compared with $20.1bn in Q2 2021, a decline of 36%. It also dropped significantly compared with the first quarter 2022 value of $60.2bn. Whilst awards values in Q2 often total a lower amount than for Q1, the industry will not welcome the fall compared to the same period in 2021.
Contracts in Q2 last year were awarded as GCC countries emerged from lockdowns, with project plans being restarted. However, the latest fall does not bode well for upcoming major projects plans given looming rising inflation, and predictions of tighter economic environments that will have an impact in future quarters.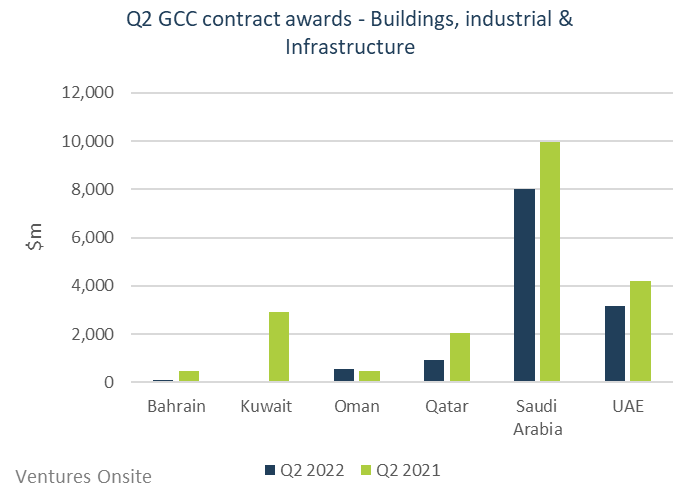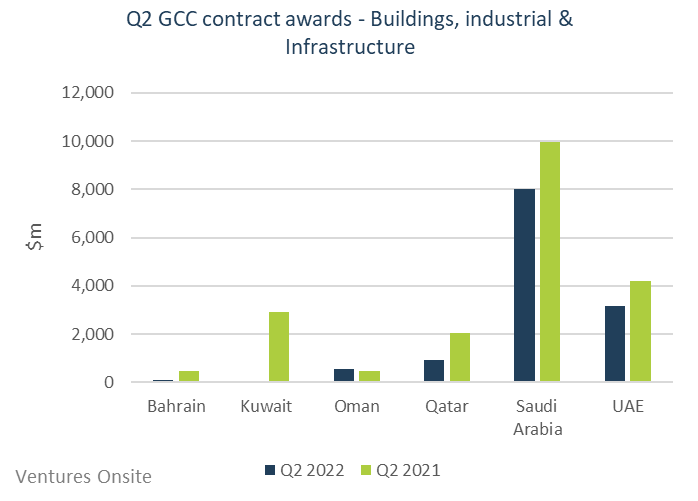 Across all project sectors, which additionally includes power & water and oil & gas, Q2 awards were worth $17.5bn, compared with $28.0bn in Q2 2021.
Q1 2022 benefitted from a raft of major awards pushing up the total value. The second quarter experienced far few major contract awards, with only two being worth more than $1bn, against seven in Q1, and both were in comparison small. These were the Royal Arts Complex in Riyadh ($2bn) and the Green Hydrogen and Ammonia plant in Abu Dhabi ($1bn).
Of the 10 biggest contract awards in the most recent quarter, eight were in Saudi Arabia, a reflection of the growing strength of the kingdom's projects market, as it pushes ahead with planned schemes in its new megacities. The kingdom is regularly announcing new cities or major buildings within its future cities, and also awarding contracts to build major infrastructure that meet its net zero ambitions, such as solar or hydrogen plants.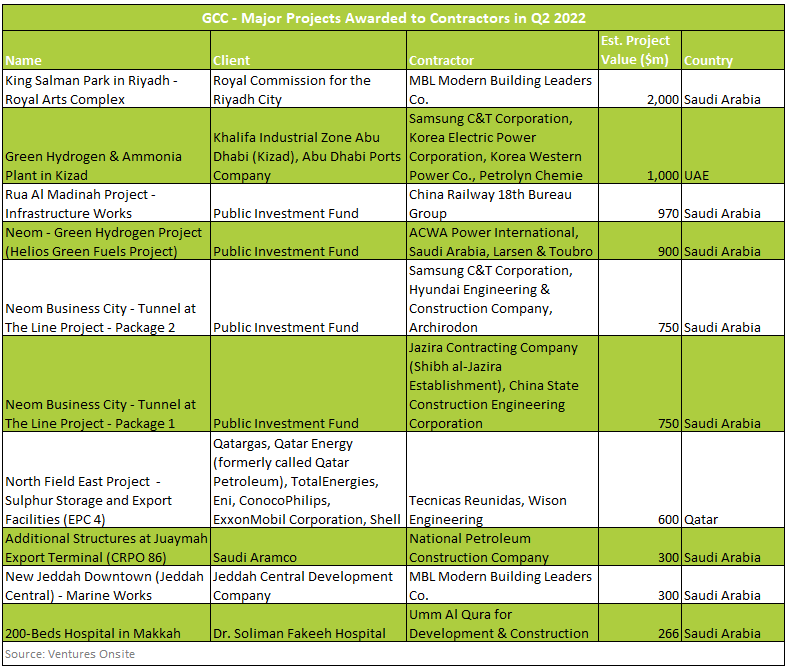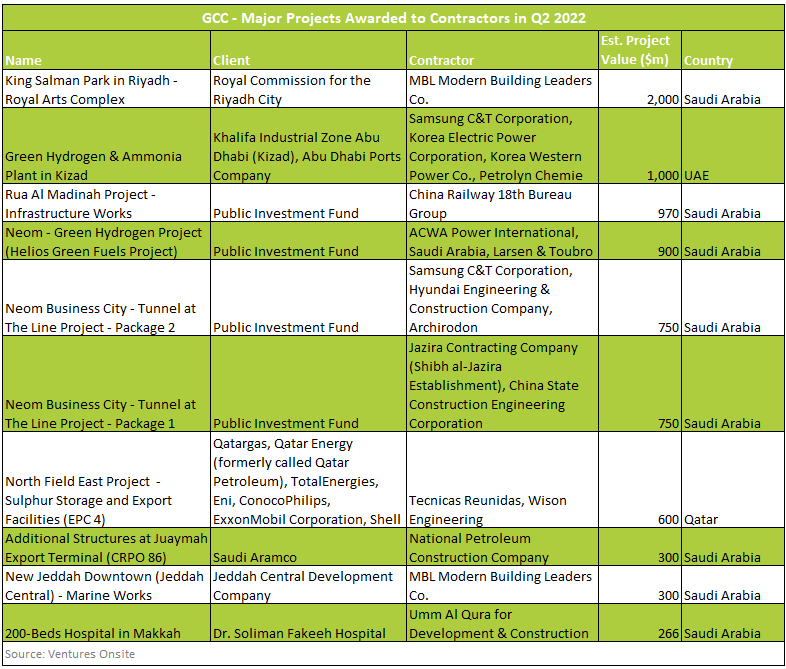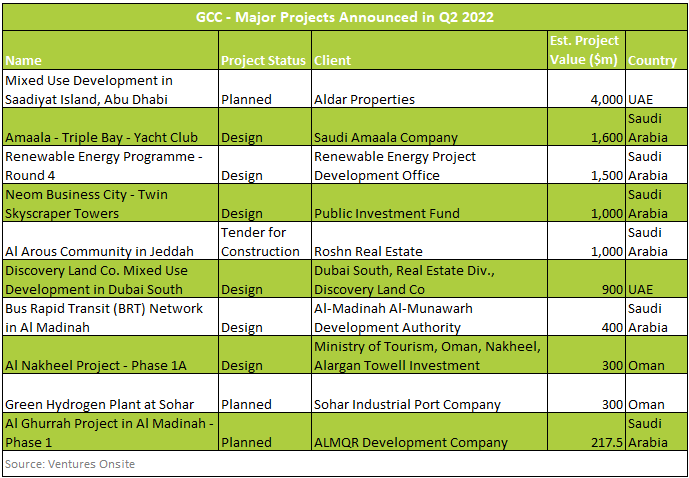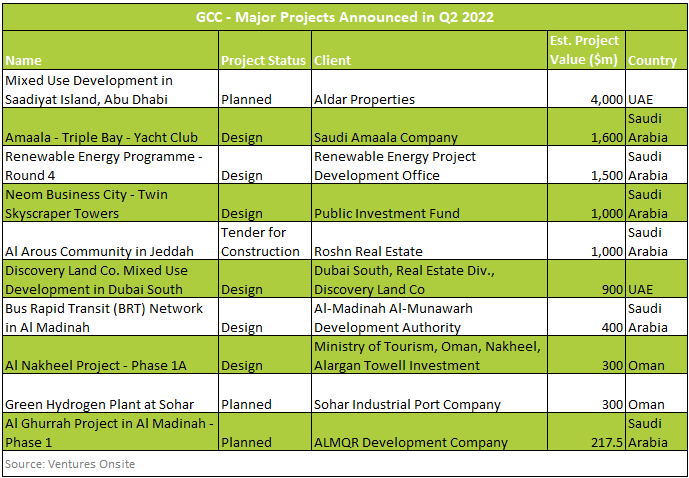 In terms of award values for the first half of the year (H1), results are roughly flat with 2021 for the UAE and Saudi Arabia. However, there was a 69% drop in Qatar, contributing to the overall fall in awards values across the GCC of 34% to $44bn.
Whilst significant percentage falls were experienced in Bahrain, Kuwait and Oman, the far higher financial value of contracts in Qatar dragged down the total contracts value. This is due mainly to the high valued oil & gas contract awards in previous quarters, especially for North Field and Al Shaheen field. In addition, previous quarters were buoyed by infrastructure and building works made in preparation for the Fifa World Cup.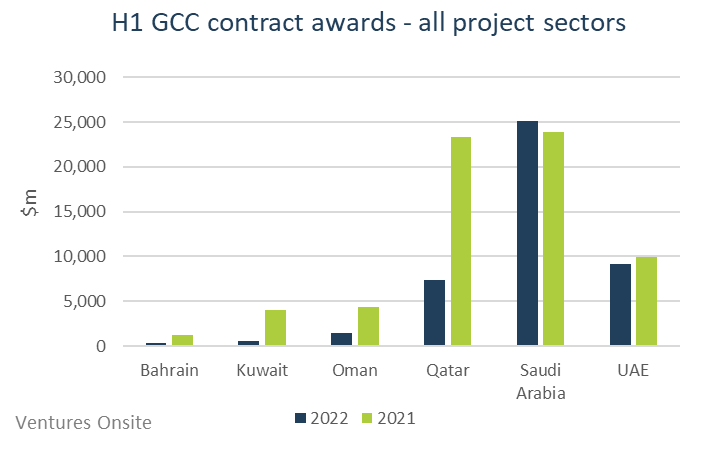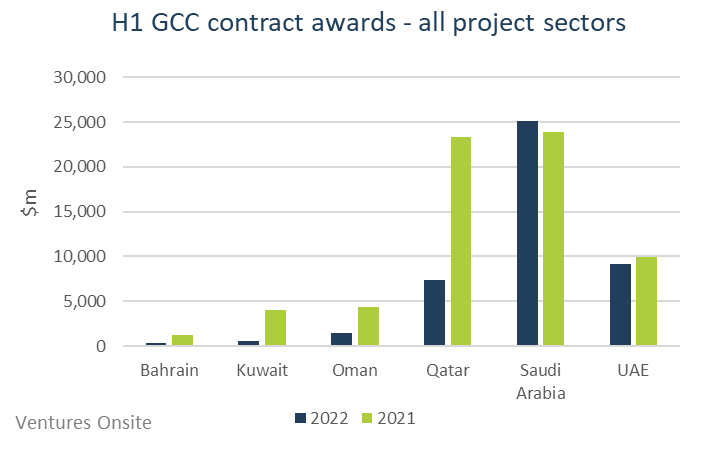 Full year GCC project awards values across all sectors is forecast to reach $106.3bn, down 11% on 2021, when values reached $119.6bn. As seen with H1 results, much of that fall is because of the drop in project values in Qatar. In 2021, awards were valued at $27.9bn, compared to a predicted figure of $19.2bn in 2022.
However, the drop cannot be fully attributed to Qatar. Only Saudi Arabia, which is expected to experience a rise in project values across all sectors. The UAE, after Qatar, will experience the biggest fall in values of about $4bn – from $29bn in 2021. The value of projects in other GCC countries is small in comparison.