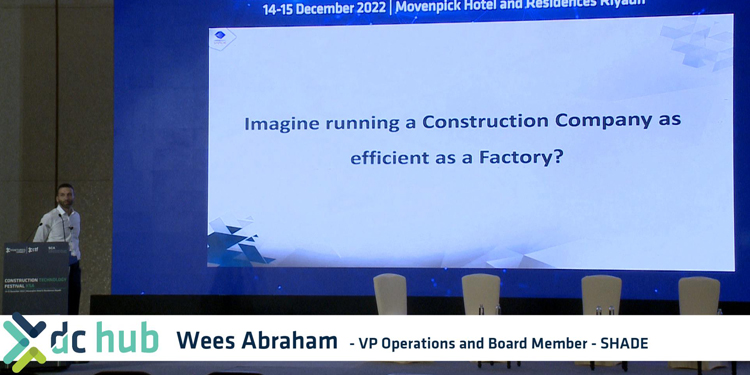 Construction today constantly seeks innovative ways to enhance efficiency, productivity, and safety. Wees Abraham, Vice President of Operations and Board Member at SHADE, shares his insights on the transformative power of digitising routine processes in this compelling presentation, drawing parallels between construction and manufacturing operations. Abraham articulated a vision where seamless digitisation offers real-time insights, efficient monitoring, competitive advantages, and improved stakeholder experiences. This blog post looks into the key takeaways from Abraham's presentation, highlighting the construction industry's digital transformation journey and its impact on productivity and safety management.
Operational Processes and Governance
Abraham's presentation emphasized the shift from traditional paper-based processes to streamlined digital operations. This transition allows construction companies to redefine their governance and supervision mechanisms, enabling better control over project timelines, resource allocation, and compliance adherence. By automating routine tasks, project managers can focus on strategic decision-making, leading to more efficient project execution.
Digital Solutions for Project Monitoring
Digital solutions empower construction companies to monitor projects and operations in real-time. This level of live monitoring fosters proactive issue identification and resolution, preventing potential delays or errors. Through integrated data feeds, stakeholders gain comprehensive visibility into project progress, helping them make informed decisions swiftly.
Competitive Advantage through Improved Productivity
The digitisation of routine processes provides a competitive edge by enhancing productivity. By eliminating manual bottlenecks and reducing administrative overhead, construction companies can allocate resources more efficiently and complete projects faster. This agility in project execution can increase customer satisfaction and a stronger market position.
Insights from Data Analytics
Abraham stressed the significance of leveraging data insights to drive decision-making. With digitisation, construction firms can gather and analyse data related to project performance, resource utilisation, and operational efficiency. This data-driven approach allows for informed strategic planning, optimised resource allocation, and continuous process improvement.
Collaboration and Communication
Digitization improves collaboration and communication among stakeholders, including clients, contractors, and suppliers. Transparent access to project data, reports, and updates fosters stronger relationships built on trust and efficient communication channels. This enhanced stakeholder experience can lead to higher client retention rates and improved project outcomes.
Adaptive Workflow
Digital tools enable adaptive workflows customised to suit specific project requirements. This flexibility enhances the agility of construction operations, allowing the teams to respond swiftly to changes and challenges. Additionally, robust communication networks ensure that all relevant parties are informed promptly, promoting seamless coordination.
ERP System Challenges and Solutions
Abraham acknowledged the challenges faced when implementing ERP systems in the construction industry. These challenges include high costs, limited understanding of company processes, data management complexities, customisation limitations, accuracy of data, and change management. To overcome these hurdles, he recommended selecting an ERP system with a robust database and accounting module, conducting comprehensive gap analyses, embracing paperless practices, and utilising existing operational software.
Stages of Digital Transformation
Abraham elaborated on the stages of digital transformation, from interlinked workflows and approvals to cloud-based storage and cybersecurity measures. He discussed integrating key data points into dashboards, self-service portals, and developmental focus portals. Incorporating Building Information Modeling (BIM) further enhances project visualisation and collaboration.
Future of Digital Transformation
The presentation highlighted the evolution of digital transformation, incorporating advanced technologies such as artificial intelligence, machine learning, and the Internet of Things (IoT). Historical data collected through digitisation supports predictive analytics and informed decision-making for future operations. ERP systems extend to safety and quality management, integrated phone applications, and business development insights, enabling streamlined processes and sustainable growth.
Wees Abraham's presentation on digitising routine processes for improved productivity and safety management unveils a transformative journey for the construction industry. Companies can achieve operational excellence, data-driven decision-making, and a competitive advantage by embracing digital solutions. As the industry continues to evolve, the integration of cutting-edge technologies promises even more significant advancements in efficiency, safety, and overall project success.