Olivia Castro, Senior Design Coordinator, Khansaheb, has been shortlisted in the Rising Star category of the 2021 Construction Technology Awards. We asked her how attitudes towards construction technology are changing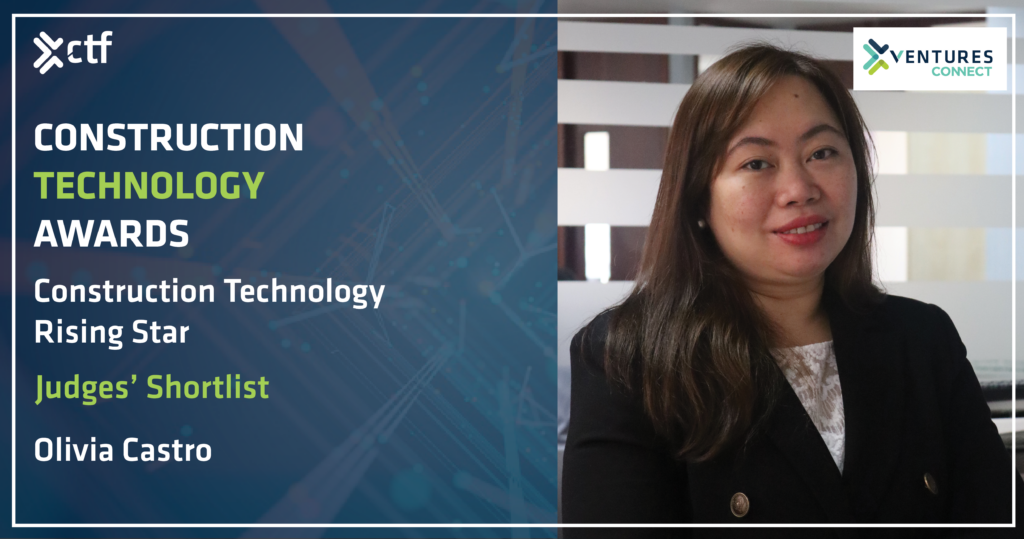 What got you interested in a career in this area of construction technology?
I am an architect by qualification, and I was working as a design coordinator when I was first exposed to BIM. I was very excited by the ability to quickly test ideas and visualise different packages and their relationships within designs using the technology, when compared to more traditional approaches. Once I was using it on active projects, I found myself being able to engage small workflows to automate and streamline some boring tasks, which is very rewarding.
What project (internal or external) has been your favourite to work on so far? Why?
University of Birmingham Dubai. The project is under construction presently. It's a challenging project that will demonstrate the use of BIM throughout its life cycle. It has also a BIM Cave that showcases the project virtually in a big scale, allowing the person to walk through virtually inside the model. We have a supportive Project Manager who allows us numerous opportunities to introduce time-saving workflows to better understand and resolve the challenges we face.
Since you joined the industry have you noticed any major shifts in attitudes towards construction technology?
At first, I noticed that some approach construction technology as a broad replacement to all less-technical approaches and get frustrated that – on adoption – this isn't necessarily the case. I believe that the situation is more nuanced than this and that some less-technical approaches are actually the most efficient option. But in other cases, construction technology is the most appropriate replacement or value-add. The industry appears to be making this important attitude shift now, making targeted decisions about where to apply construction technology with regard to specific processes and where to continue refining the existing processes.
If you were encouraging other women to work in this industry, how would you 'sell' it to them?
I am a type of person that talks less and seeks to move forward as much as possible. While titles and specific roles do exist, there are always diverse opportunities to contribute your ideas and shape the outcome of projects and the way that teams achieve their goals. Moreover, there is something so special about being able to see a completed building that you've worked on, and the ways that people interact with these landmarks. Nothing else offers you the ability to make your mark in such a way.
Have you faced any roadblocks and how did you move past them?
Yes, for those companies I worked for I was involved always in introducing and establishing BIM to the system, getting through is difficult and frustrating because of people's mindset, especially in older generations. They feel that you're removing them from their comfort zone, while others think you are a threat because if you show them what BIM can offer, they will look at it as a potential replacement for their roles. Doing your homework, and combining this with patience and perseverance will get you through.
You've been shortlisted. Why do you think you should win?
First all of thank you for the nomination. Thank you for the trust and confidence you have placed in me.
I believe I should win because as a woman working in construction, my contributions are being recognised not only in the industry but also to the development and evolvement of the company in adapting and embracing the emerging technology trends in construction. It is always a great pleasure and best feeling to share knowledge, and I believe that my expertise has prepared me well to make a significant use and contribution to each individual I have worked with, and to the company to keep ahead of the competition in the construction industry.
---
Construction Technology Awards
The shortlist for Construction Technology Rising Star of the Year recognises non-senior managers from the construction value chain who are fast gaining importance in both their organisation and field, and are becoming a role model for digital technology.
The rising stars in this list have positively impacted the organisation's strategy, planning, management processes or investment decisions, and successfully collaborated with internal and external stakeholders to achieve impressive project results.
The winner will be announced on Wednesday 2 June, on the second day of the Construction Technology Festival, taking place in Dubai. Find out more here.