Onsite safety is of paramount importance to any construction company. Considered one of the most dangerous industries to work in, employees face onsite risk that can lead to accidents or fatal injury due to their exposure to hazardous conditions.  
The main risk factors include:
Being struck by equipment
Slip or fall accidents
Being exposed to hazards
Being involved in incidents that bring in product damage or accidents
An on-site workplace manned completely by humans lacks the benefit of having a predictive analysis of the safety scenario in a given situation.
The incorporation of Artificial Intelligence (AI) in on-site workplaces, with its capacity to employ automation to hazardous tasks or providing predictive analysis of required workplace security measures, to name a few, can revolutionise the way the industry thinks about on-site safety.
For example, the below chart shows how the adoption of automation in a business can boost construction site safety.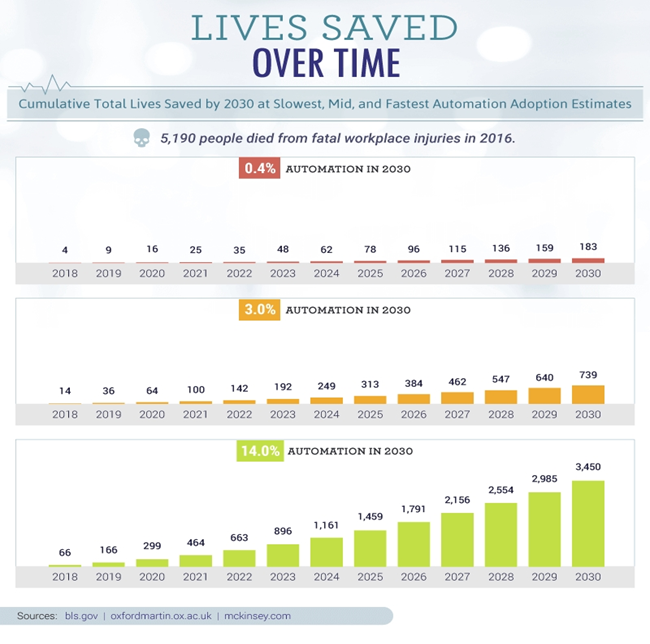 Automation is a vast aspect of AI that helps to enhance workplace safety. The use of machine learning:
advances software that helps to analyse large amounts of data
find weak points in a safety structure
identify trends
When combined with AI, this helps provide solutions to many workplace safety challenges.
Examples of ways that AI enhances on-site workplace safety includes:
Reduce human error
Human error is one of the main factors that contributes to workplace hazards. It not only poses a risk but also puts other workers at risk and can result in downtime that affects the company's project schedules and finances.
Workplace human error often happens due to worker fatigue or stress. The use of AI processes has been observed to help identify the following:
Worker fatigue level
Hazardous working areas
Create alerts about possible threats
This helps to minimise the problem posed by human error in a working environment.
Employee monitoring
This can help to enhance on-site safety by methods such as tracking a workers location or monitoring workers' vital signs
Tracking a worker's location is important to assess whether or not an employee could be a direct threat to a hazardous situation. Secondly, in the case of an injury, knowing a worker's location helps safety managers reach them faster, potentially saving precious time in applying medical aid.
Monitoring the vital signs of workers helps identify the current health of an employee, providing an early alert if there are potential problems. When on-site, because of the nature of the job, it is not unusual for a worker to overlook how they are feeling whilst they focus on completing a task. This leads to worker fatigue and potentially to human error.
Equipment assessment
The quality of equipment used affects the safety of workers – poorly maintained equipment or wrong tool for a task can is a hazard that can lead to injury.
With the use of the Internet of Things, AI can identify machines that are unsuitable for use. This not only helps keep workers safe but also averts damage before it happens.
Automating dangerous tasks
An on-site workplace involves a lot of tasks that pose a threat to humans. The application of AI on robots can evolve them to be more accurate in the production phase. They can be used to replace the human workforce in hazardous places.
Examples include the use of drones to conduct site inspections. This has resulted in more accurate inspection reports that can be conducted under far safer conditions than if someone had to walk the site, and less human error.
Virtual simulation of dangerous work
Before AI's use for onsite safety, workers had to assess a job in person. Being on the job was the only way to understand what is happening onsite, and to spot potential hazards or implement safety measures.
With AI, employees can be trained on risks and to identify potential hazards in the workplace through a virtual simulation without being there in person. This reduces the risk of injury and accidents caused due to inexperience.
The use of AI on-site can improve safety in a workplace. The points highlighted above are the tip of the iceberg; the true potential of AI is yet to be fully realised but as the technology evolves it will enhance workplace safety within construction site, and in turn contribute to a reduction of job-related injuries and deaths.