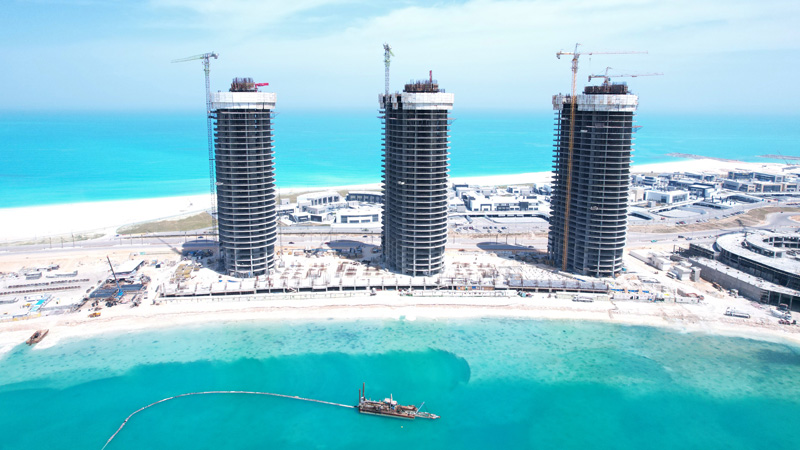 A major differentiator for leading regional private construction firm SIAC, is being family-run. This is according to board member and business leader, Seif Ragab, who runs the business alongside his father Nehad and brother Marwan.
"There's a beauty to a family-run business. The values and leadership run all the way down to the employees of the company. It is a beautiful thing – and clients can see that."

Evident of this is the extensive network SIAC has built over the course of its 37 year history. Across Egypt, Yemen, Djibouti and Qatar, SIAC has successfully completed major projects that include heavy industrial construction, M&E, and petrochemical and power plants. Over the years, its reputation has grown and, as Seif explains, so too has the business.
"So many opportunities arose just because of the network that we built throughout nearly 40 years of experience."
However, with a burgeoning roster of work came challenges – ones SIAC would have to ensure didn't undermine the values and reputation it had spent years building.
"The biggest black box we had"
Visibility is undoubtedly essential to successful construction. Having oversight of project status, as well as worker productivity, can make the difference between a project being completed on time and on budget, and increased costs leading to lost profit. This is especially true of SIAC, which has a range of differing projects spread out across the Middle East – and according to Seif, worker productivity was "the biggest black box we had."

"One of the biggest problems we faced was the amount of money we paid for casual labour and labour on the project site without actually knowing how productive we were being. Everything was done with timestamps – but the worker being on site is not an indication of what's actually going on."
Without being able to measure the progress that was being made on a daily basis through better access to, and visibility of, data, SIAC was unable to carry out its labour and material planning accurately and efficiently. This meant it was unable to manage budget effectively and, in turn, provide accurate estimates that could help secure future work.
For Seif, another issue came from how up-to-date the data was. As he explains, "If we're looking at something from a month ago, it's too late to change it. Whereas if you have real-time access to the data, you can adapt to that."
This barrier represented how far SIAC had yet to go in its digital transformation journey. While the business had already digitised its processes with an online internal management system – abandoning manual data entry and storing information in spreadsheets offline in the process – this homegrown system simply wasn't up to the job, and without an alternative – one that could act as a single source of truth across projects and in real-time – it would inevitably buckle under the pressure of the business's burgeoning workload.
Seif explains, "In 2015, we built our own internal management system – but it lacked a lot of integration. We had a separate system for the technical office, that wasn't linked to the accounting office, that was really linked to the operations office."

"We asked ourselves how we can have access to our sites in real time?" says Seif. "How can we have access to these projects in terms of the productivity that happens on a daily basis, and link that to our head office?"
This level of connectivity was a major priority for SIAC and led them to identify platform technology as the solution. Capable of connecting both teams and information in one place, platform technology gives visibility into the status of all projects, drives collaboration and productivity, and generally moves businesses forward into an era of smarter construction. As Seif and team were about to find out though, not all platform technologies are created equal.
A single platform to improve visibility and boost profits
To ensure the SIAC team had the right solution, Seif and his brother Marwan included employees in the decision-making process. With first-hand experience of the problems they faced, the team was in a great position to choose a platform capable of solving them.
Every member of the SIAC team was tasked with doing their own competitor research that involved testing the range of construction management software on offer. This meant they could get hands-on with exploring how each option could address day-to-day challenges, while ensuring they were getting an easy-to-use system that could be adopted quickly and used widely.
This represented a new approach to change management – but one that ultimately meant each team member better understood the value of the technology, and would receive greater buy-in as a result.
"Every team member made the case for their top pick," says Seif. "The consensus was that Procore stood out from the rest."
When it came down to why, Procore's Field Productivity solution, in particular, was identified as a potentially transformative way of boosting SIAC's tracking of real-time productivity. Since adopting Procore, this has proven to be the case. By monitoring labour costs in real-time, and identifying at-risk scopes of work, the tool has enabled SIAC to protect its labour budget and act fast to make decisions that positively impact the profitability of its projects. By boosting profits in this way, Procore has helped SIAC grow increasingly confident of the business being in good shape – meaning the team is able to focus its attention elsewhere. Namely, on delivering the high quality, family-run experience its customers have come to expect.
"After doing all the analysis and finding that Procore's field productivity was actually the best, everything else was a cherry on top," recalls Seif. "I don't think anyone does it the way Procore does – especially field productivity."
For Seif and team, one of these cherries on top was the fact that with Procore they had a single platform to integrate all of SIAC's business functions. This was a crucial step-up from their in-house system, and offered an integrated system that housed all projects.

With this level of visibility, and access to the data in real-time, SIAC not only overcame the challenges it was seeing at the time, but laid the foundation for a future without any trade-off between more projects across more territories and quality construction.
Building a foundation of confidence
Procore has had a huge impact on the level of visibility SIAC has across its entire business. Seif explains, "We like to have the mentality that, together with the client, we find ways to increase efficiencies, and ways to decrease costs." SIAC may have had the mentality to make this happen before, but now with Procore, it has the technology.
This setup has helped Seif and his team expand their operations even further – opening the business's first office in Saudi Arabia last year, with the region seeing an exciting and transformational period of construction that includes groundbreaking initiatives such as Vision 2030. SIAC's office opening represents a huge opportunity for the business, and crucially one that it can take full advantage of, because it has successfully implemented the proper technology to support growth plans and secure a competitive edge in this new, hotly-contested market. SIAC has entered Saudi Arabia at the perfect time – and with the perfect tools.
While it is proud to be a family-run business, SIAC is far from what could be called a 'traditional' contractor – and is instead always looking to the future, and to partnering with the best construction industry technology leaders. By investing in Procore, SIAC is ensuring that whatever exciting plans are in its future, there will be a foundation of confidence in the business.

To find out more, please visit www.procore.com/en-ae/