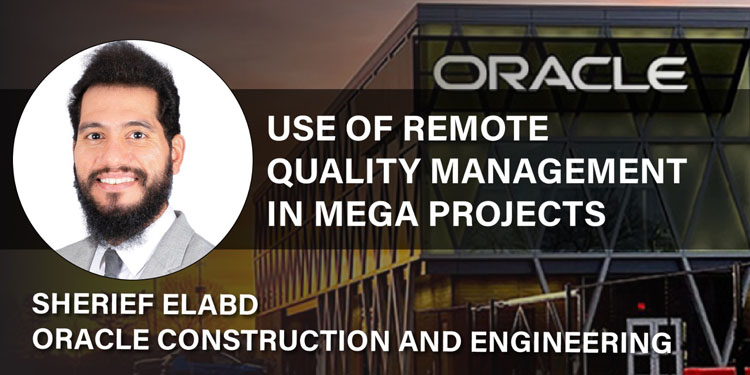 Staying at the forefront of advanced quality monitoring and control technology is essential for any construction project, even more so for mega-developments that incorporate multiple sites and projects.
Mega construction projects present a host of challenges, their complexity, tight schedules, and high stakes make them susceptible to errors, delays, and budget overruns.
In this presentation, Sherief Elabd, Director of Industry Strategy and Innovation, Oracle Construction and Engineering explains how construction technology supports the scarcity of qualified inspectors for complex and distance projects and how technology is being used for QA and QC solutions.
Historically, the construction industry has relied on traditional quality control methods, which, while effective in smaller projects, may fall short in the context of mega-construction endeavors. Traditional methods often involve manual inspections and periodic checks, leaving room for human error and missing critical issues.
Sherief details real use case examples of how the construction industry progresses with digital transformation to advanced quality monitoring and control methods. These methods leverage cutting-edge technology to provide real-time data, analysis, and insights, empowering construction teams to make informed decisions swiftly.
The construction industry is at the forefront of technological innovation. As we move forward, we can expect to see even more advanced quality monitoring and control solutions. Artificial intelligence, machine learning, and automation are poised to play increasingly significant roles in ensuring the success of mega-construction projects.
Advanced quality monitoring and controls are revolutionising how mega construction projects are executed. They provide the tools and insights needed to overcome the challenges inherent in these colossal endeavours. As the construction industry embraces innovation, we can look forward to safer, more efficient, and more successful mega-construction projects that shape the world around us.