A demonstration unit in Wales is investigating the use of hydrogen to supplement gas in the production of a green cement
The use of green cement for Sustainable Construction
Researchers at Swansea University in the UK and Hanson, a subsidiary of Heidelberg Cement, are running a demonstration unit to produce cement using green hydrogen as the fuel source.
The unit, housed in a shipping container, has been installed in Hanson's plant in Wales. The research is investigating if more sustainable cement can be produced using green hydrogen as a fuel source and ground granulated blast furnace slag (GGBS) as a clinker. Natural gas is supplemented with hydrogen, with resultant emissions monitored. Conducted by the university's Energy Safety Research Institute, the work is part of the Reducing Industrial Carbon Emissions initiative.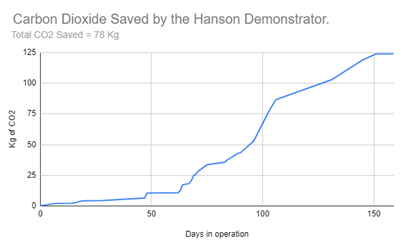 Green hydrogen is manufactured using clean energy (in this case a combination of wind and solar) and emits only water vapour when burnt. GGBS replaces up to 80% of the cement used in concrete and is greener than using Portland cement, but still requires significant energy. By using hydrogen in place of a fossil fuel, it reduces the product's emissions further.
Cement manufacture is responsible for approximately 8% of annual global carbon dioxide emissions. Reducing emissions in the manufacture of cement is an important step if construction is to reduce its embodied carbon. Today, about 11% of construction's emissions come from a building's non-operational phase – its construction and demolition. This includes associated manufacturing processes, such as steel, cement and glass.
However, what is unclear from the research is if this approach would require largescale equipment upgrades or replacement, increasing the cost of production.
Marian Garfield, Head of Sustainability at Hanson UK, said the company wanted to halve its CO2 emissions from its 1990 baseline by 2030. "We are constantly looking to improve energy efficiency and carbon reduction at our cement and Regen plants, so we are delighted to be involved with this innovative research project."
Adding hydrogen to natural gas reduces the amount of gas used in a process. That gas will also burn cleaner, although adding hydrogen will lower the calorific value of the gas, which reduces the quantity of heat produced by burning the fuel.
Other approaches to reducing emissions associated with cement manufacture include burning waste products such as old tyres. Due to the high heat and chemical reactions, the burning process does not result in extra emissions being released into the atmosphere. Using waste diverts it away from landfill and reduces the amount of fossil fuel, such as coal, used in the manufacture of cement.
More on construction materials