Ahmed Ragab, Regional Sales Manger, Sitech Gulf Global Positioning Systems, has been shortlisted in the Rising Star category of the 2021 Construction Technology Awards. We asked him what got him interested in a career in construction technology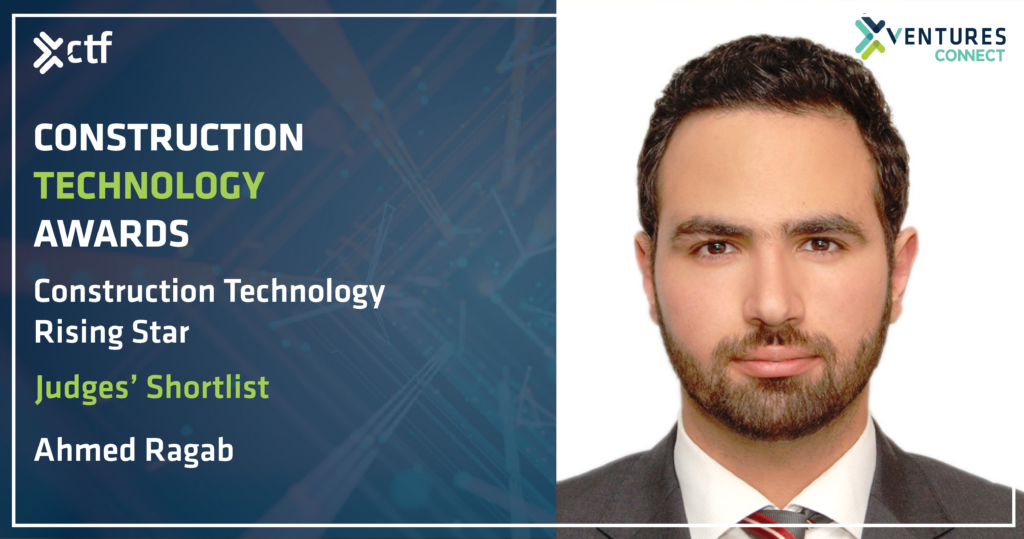 What got you interested in a career in this area of construction technology?
It was in 2012, when I worked with Caterpillar and saw the launching of the first automated machine, with the very first AI program acquiring data. I couldn't resist the thought that if this works, it's going to be the next game changer and change the way the whole construction cycle works!
The amount of diversified challenges that could be tackled, and the massive contribution that it could produce to the people and the businesses across the table made me decide that I have to be part of it sooner or later – so I got on board making sure that I can also bring a little change in this industry, as well as in this region.
What project (internal or external) has been your favourite to work on so far? Why?
My favourite and most challenging project was Phase I of ATD (Adam Thumrait Dualization), in Oman.
The project had every reason to fail. The contractor was beyond budget with mounting delay penalties, and everyone was trying to save the day at a site which was 10 hours away from the nearest city, and 200km from the nearest gas station. Therefore, once we got involved, every person on the project mattered and every contribution was needed to succeed.
The amount of teamwork needed to pull this through was enormous. Everyone had to contribute, from the chairman to the project director on site. This happened before we started using construction technology onsite. We exceeded every delivery expectation, and by automating the whole process onsite, increased productivity and caught up with deadlines.
Since working in the industry, have you noticed any major shifts in attitudes towards construction technology?
Personally, I have been observing and learning the rapid change that the emerging market is going through since the recession in 2008, where technology adoption was below 1% in our segment. Since then, it has rapidly grown and changed the way we deliver and build, forcing businesses into a new framework and new environment, which they struggle to accept.
From the perspective of stakeholders and business developers, the attitude is positive and proactive in some sectors, where they comprehend the advantages of implementing such emerging technologies that can aid the growth of their companies. On the other hand, most – but not all – construction personnel will not easily accept changes to their tried methods. I would say that whoever wins that internal debate in a company has accordingly caused its success or failure.
What projects have inspired your own work?
Etihad Rail Phase I and Phase II. The experience of participating in such a large, long-term project has been inspiring. I started with Phase I in 2016, assisting the German contractors on the engineering and maintenance side. For the current phases, with more than 600km of railway course awarded, it has required a massive effort from all contractors involved – and we have been there to assist at every step.
The latest awards involve four massive packages for more than 600km and with over five international JVs, six main contractors and more than 15 sub-contractors for the railway, earthwork and related road work.
Have you faced any roadblocks and how did you move past them?
Due to the number of contractors and sub-contractors involved in a given project, and the different skills and specialisations each brings, we had to be very flexible in how we implemented new technologies. We tried to mitigate the risk involved in trying new technologies by testing them ourselves, and presenting our partners with proof of concept. This required a huge investment of time and money, but has rewarded us in the success we have achieved.
Resistance to change has been the major roadblock in introducing technology to contractors, and this comes from the culture in the industry that does not reward risks.
What skills have you learned that have allowed you to progress to this point of your career?
Communication, flexibility and teamwork.
If you were encouraging others to come into this industry, what would you tell them?
Be unique and flexible and keep up with every aspect of the industry. Don't be that buggy-whip promoter when the automobile was gaining dominance. Generally, construction technology can be perceived as destroying routine jobs but it will also create many others. Each and every one will be unique in itself. As long as you can keep up with the pace and be flexible enough to learn and extend your learning curve, you will be able to produce better deliverables utilising these new technologies.
What do you think those who work with you have learned from you?
Maintaining a structured professional approach while being flexible enough to adapt to the situation and solve the problem.
You've been shortlisted. Why do you think you should win?
As an organisation we take new technology beyond theory and buzzwords, and apply it practically to real-world situations that make a huge difference in production, for our contractors and end users. Often, we see technology being pushed in magazines and at exhibitions, but without a practical next-step, adoption is too slow. We are that next step, taking digital transformation from the drawing board to a useful tool: whether it is design software, BIM, project tracking, machine control, or other advanced hardware.
I also believe that the best team should win, and I'm part of that team. We are a motivated organisation that works really hard, day and night, to implement every use of construction technology and make a difference for every contractor, entity, or end user that we engage with. No one succeeds on their own, we can just contribute, do our best, and all win together.
If we won this award, it would reward all of us both personally and professionally, and motivate us to keep raising the bar.
---
Construction Technology Awards
The shortlist for Construction Technology Rising Star of the Year recognises non-senior managers from the construction value chain who are fast gaining importance in both their organisation and field, and are becoming a role model for digital technology.
The rising stars in this list have positively impacted the organisation's strategy, planning, management processes or investment decisions, and successfully collaborated with internal and external stakeholders to achieve impressive project results.
The winner will be announced on Wednesday 2 June, on the second day of the Construction Technology Festival, taking place in Dubai. Find out more here.